Few artists in rock history can carry off the single moniker, and carry it with gravitas.
SLASH is one of that rare breed.

Since emerging with Guns N' Roses, SLASH has been one of the world's most sought after guitarists. Michael Jackson, Ray Charles, Stevie Wonder, Quentin Tarantino and so many other fellow icons have sought his services in order to make the good sound great.

Critics and fans alike still debate the greatest rock riff of all time with "Sweet Child O' Mine" consistently taking top honors. Time Magazine placed SLASH second only to Jimi Hendrix amongst the greatest guitarists of all time.
It therefore came as little surprise that when SLASH put out the word about recording an album, the likes of Ozzy Osbourne, Iggy Pop, Chris Cornell, Dave Grohl, Lemmy, Ian Astbury, Andrew Stockdale and others smashed down the studio door to be a part of it.
'Slash' (the new self titled album) is everything that was ever great about rock music. For all those who will undoubtedly find themselves praying at the Altar O' Slash "Modern rock will not get much better than this, we have encountered a new standard, a new "classic" that is every bit as good as the best of the best from decades long" – Metal Resource.com
The man himself is ever modest about his place in rock history but his upcoming Australian tour will leave his legions of fans with no doubts at all.

Slash tour dates:
TICKETS ON SALE FRIDAY 7 MAY 2010, 9AM
WEDNESDAY 11 AUGUST MELBOURNE, PALACE THEATRE – 18+
www.ticketek.com.au 132 849
THURSDAY 12 AUGUST BRISBANE, THE TIVOLI – 18+
www.ticketek.com.au 132 849 and Rockinghorse Records.
MONDAY 16 AUGUST SYDNEY, ENMORE THEATRE – Lic A/A
www.ticketek.com.au 132 849
---
Slash (Former Guns N' Roses guitarist) shares his favorite tracks.
via: ABC's Playlist
---
Advertisement
Buy these relates Slash products: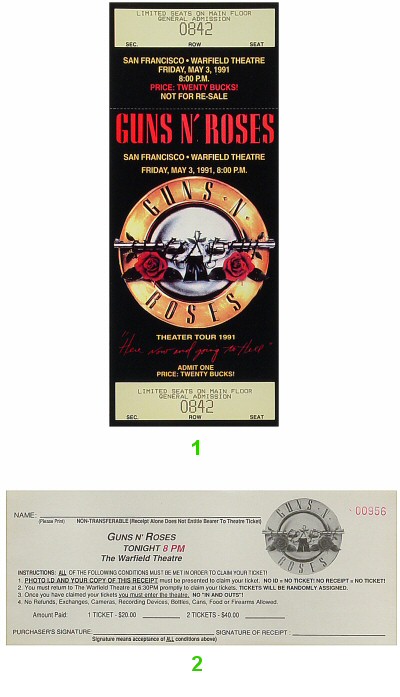 Guns N' Roses 1990s Ticket from Warfield Theatre on 09 May 91: Ticket One
– Buy: Slash from iTunes

Get a great selection of Slash t-shirts, apparel and merchandise from Rock.com, The Official Site of Rock Music.